I tried Pornhub VR when I first got my headset and it was disappointing. Then, I found SexLikeReal.
I love SexLikeReal and have spent over 100 hours on their website. Not only do I watch the same videos over and over again, but I also have a huge list of titles on my Watch Later list.
---
Diverse Content
SexLikeReal has videos that focus on a broad range of sexual desires and preferences. In order to help you find what you're looking for, they have a robust tag library. The aforementioned tag library has a wealth of options around race, gender, body types, sex acts, locations, situations, and kinks.
By default, SexLikeReal will display videos that focus on fantasies with women, which they refer to as their straight library. These videos usually include lesbian VR videos, solo female VR videos, and VR videos of men having sex with women. On top of that, they have the type of content that makes VR special: simulations where you get to perform various sex acts with women.
If you're looking for videos that focus on fantasies with men, start with SexLikeReal's gay category. In the gay category, you can find VR videos of men masturbating and men having sex with men.
SexLikeReal also has a "trans/shemale" category which focuses on models with male genitalia and secondary female characteristics (i.e. breasts). While there are issues with the terminology (and a lot of the other words SexLikeReal uses for this content), the videos themselves are high quality and worth exploring. For more information regarding trans identity in pornography, I recommend this article from Vice.
Pricing
SexLikeReal has a few different tiers of content:
Free Videos – a curated list of completely free videos. I recommend using these videos to test out your headset and play space before committing to a purchase.
SLR Premium – a monthly subscription that provides access to a HUGE library of content for streaming and download. 99% of my time on SexLikeReal is spent watching SLR Premium videos. The default pricing is $29/month, with discounts available for quarterly and yearly pricing. On top of that, they often offer holiday discounts.
Pay-Per-Video– videos which require a one-time payment to unlock. In my experience, these videos are generally $5-$10 in price and thirty minutes to three hours in length. Similar to Steam Sales, you can often find specific videos available at temporary discounts. At the time of this writing, I've personally purchased about twenty Pay-Per-View videos on SexLikeReal. Once you purchase a video, you get permanent access to it.
Live Cams – live performers which you can chat with and tip.
---
Quality
Resolution is always high, with each video providing unique options. Most of the videos I have watched on SexLikeReal were well made with a very clear image. While the majority of videos are absolutely perfect by modern day videos, I did find a few old JAV videos that were a bit dark or blurry (but to be honest, I still enjoyed them because they were weird).
This site has countless unique fetish studios. Many of these studios focus heavily on pissing/peeing, while many incorporate it with other fetishes. With the premium subscription alone, I was able to enjoy 10+ hours of unique, well-made, specific, and nuanced pissing and peeing videos. I watched most of these videos more than once.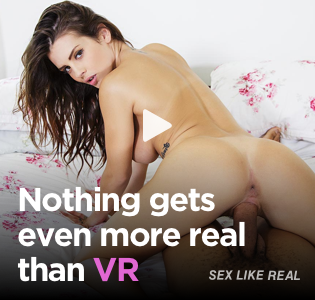 ---
Interface/App
The VR interface for SexLikeReal.com is fantastic. As expected, it's easy to save videos to a favorites list, the filter by Studio, Category, or the Premium / Pay Per View library.
The best part about the interface is that videos can have tags at various time stamps, allowing you to skip around to specific parts. For example, if you want to skip the #tease and go straight to #cowgirl, all you have to do is click. If the first #cowgirl scene isn't the angle you want, then just skip straight to #cowgirl2. This also helps you check easily if the sex finishes with #creampie or not.
For more information about technical features of the virtual reality interface, I recommend my guide for watching VR porn.
---
Fleshlight Integration
Many of the videos on SexLikeReal have Fleshlight integration. This allows you to synchronize the video with your fleshlight via Bluetooth.
When your fleshlight is synchronized, you'll be able to feel the action directly.
---
Conclusion – Pornhub VR Doesn't Cut It
Avoid pornhub VR. Since pornhub isn't curated, the quality is inconsistent and many "VR" videos on Pornhub are actually just simple VR gimmicks designed for cell phones or Google Cardboard.
In my opinion, currently SexLikeReal is the only choice for immersive virtual reality porn with high production value.
It's easy to find out if SexLikeReal, and VR porn in general, is right for you. Just start with the free videos section: