Recently, I have been experimenting with using pornpen.ai to generate nudes.
pornpen.ai is a tool that generates still images of human females. 
What I love about AI porn is that it lets me take control of the experience. I am able to create something new.
This allows me to explore my taste and fine tune my result based on my current mood or craving. For me personally, the most interesting aspect is being able to tweak the body attributes. As someone who fantasizes about a wide range of body types, I love being able to add or decrease various aspects of body size depending on my mood. Sometimes, I want a woman who is big, confident, and beautiful. At other times, I am more excited about the idea of a woman who is slender and petite. And of course, there are also the times where I prefer to fantasize a woman who has realistic, average proportions.
AI Nudes – The Options
Currently, the creator is rapidly adding features to the tool. I have been using it for about two weeks, and there is an announcement every couple days with new attributes, settings, and features. So, please note that any features I highlight today will quickly become out of date as the tool continues to grow. With that being said, here are some of the cool things you can do with pornpen.ai today:
Un-Cropping and Repositioning
After a model is generated, it may be cropped. However, you can zoom out and reposition the cropping to have the rest of the AI nude generated.
Realistic Model Generation
The app includes a setting to make the skin and other aspects of the AI nudes more realistic. It allows the user to trade some of the model's creativity for realism.
Inpainting
After your image is generated, you can manually select parts of the image for adjustment. In the below example, the breast size was modified.
Tons of Character Attributions
The tool allows you to select body details, ethnicity, age (18+), position, clothing, expression, as well as a variety of other characteristics. 
Here's an example of the current clothing options at the time of this writing: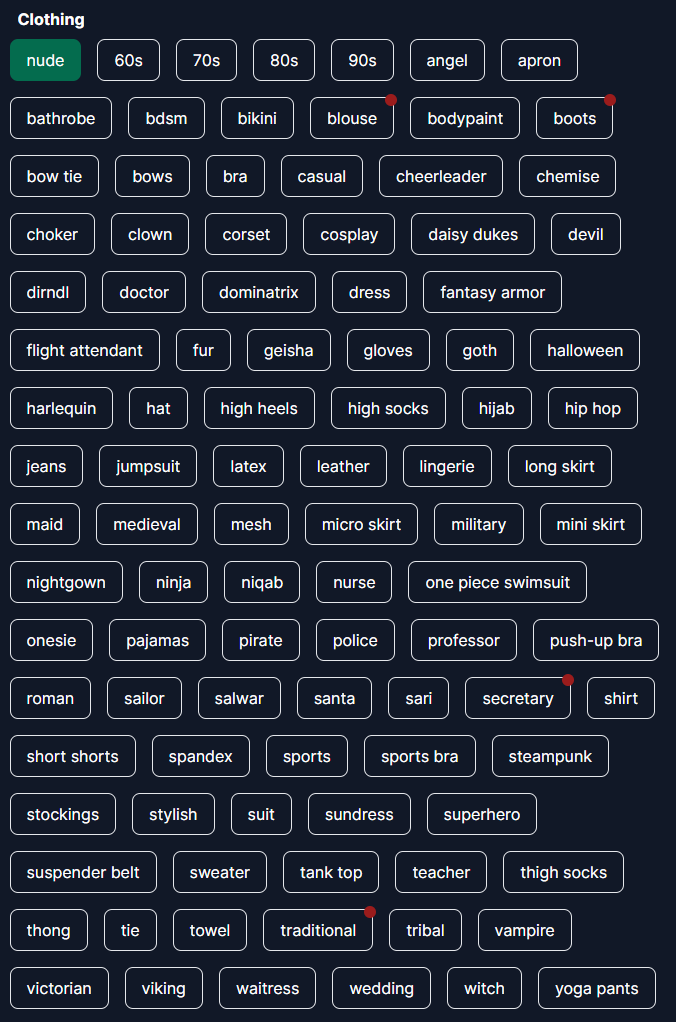 Healthy Engagement
I personally think AI nudes, and in general all of AI porn, is incredibly fascinating and a great opportunity for humanity to evolve its relationship with society. With that in mind, I believe that engaging with the application in a healthy and sustainable way is key. It is important to keep the risks of addiction in mind.
Opportunities for AI Nudes Software to Improve
In terms of where the application has room to grow (along with other applications in the space), I think there are two key opportunities at the time of this writing.
The first opportunity is simple, which is to add more gender diversity to the models generated. While it's completely fair and encouraged for a software development project to have a clearly defined scope (in this case, generating AI nudes of women), ultimately I believe that adding more options along the gender spectrum could increase the total addressable market.
The second opportunity for improvement would be the language in the user interface. While the AI is most likely using language that is commonly used in porn as that is what it is trained on, I personally believe that the AI revolution is an opportunity to define new cultural norms around sex positivity and safe exploration. To help facilitate this, I hope AI porn developers will consider will migrating away from historical porn terms that may be associated with negativity.
Examples of this include options such as "perfect boobs" which reinforces a legacy perception that one specific body type is "perfect." 
In the example of "perfect boobs," the AI model is most likely looking at images which are literally classified as "perfect boobs" in the source categorical data, so it is not the fault of the AI or the developer for creating a model that is accurate. However, even though there is no fault, it is still an opportunity for creators – especially on the side of UX design – to find small ways to make the interface terminology welcomes all types of users regardless of their gender and body shape. 
As the tool evolves and potentially grows into a larger scope, and the community brings in more diverse users with more diverse use cases cases, I hope that this tool (and all tools of this nature) will evolve in the direction, as it will help the AI revolution create a new world in which everyone can explore their fantasies in a healthy and sustainable manner.
Conclusion
I absolutely love it. Despite my nitpicks about the terminology, I do feel that pornpen.ai is on the absolute forefront of AI nudes and deserves support. At this time I am wholeheartedly recommending it and am also a subscriber of the Patreon.
https://www.patreon.com/pornpen